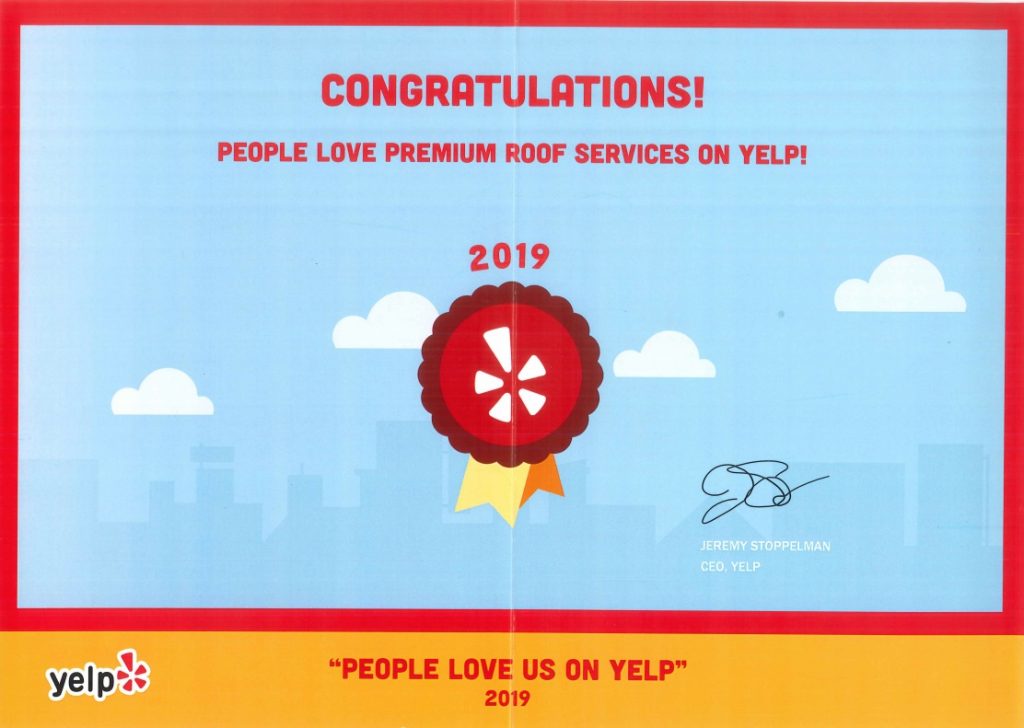 El Rojo d

"Yes, we're very happy! The roof looks amazing as you did really high quality work, your guys were really friendly and professional, and they kept everything clean and tidy. Highly recommend!"
c e
"We had Premium put a roof on our current house 5 years ago and they did a beautiful job!
Now we're in escrow with a new house and needed a roof estimate and inspection report quickly. Tony fit us into his schedule right away and gave us a detailed written report. He told us the flat parts would need replacing soon but that the existing peaked roof should perform well for up to 10 more years. We really appreciate his honesty and professionalism,
definitely recommend them!"
Jessica s

"What a great job!!! These guys really know their stuff!!! Fantastic quality of work and even came out after the storm to see if there was any issues :)"
Alma C

"Thankful and truly blessed with their services. My family room starting to leak the beginning of our storm, they scheduled me the following morning sent very nice staff to assist me. Due to their fast response my roof was evaluated and patched for the time until I'm ready to replace the roof. I strongly recommend them they are simply amazing and very compassionate."
JoAnne A
"Premium Roofing exceeded our expectations and we highly recommend them. Excellent service and workmanship. Peter went over and beyond to advise us to contact our insurance company and quickly performed a thorough inspection report. We made a claim for wind damage after the recent storms. It was approved and covered a good portion of the overall cost. Thank you for the great teamwork, wonderful, caring service, and beautiful roof, Peter, Tony, Jose, Debby, and Mark."
Brian E

"Rachelle does a great job as office manager leading the direction for Tony (co-owner) to come out and give estimates on our two roofs. One was shake shingle on its last legs and the other was an issue with the flashing around the chimney and water intrusion.
Repairs to our old shake shingle roof went quite well and extra materials were used to finish that job at no cost.
Repairs to our flashing that surrounds the chimney on another home was needed because of water intrusion into the attic. Repairs were also done to the ventilation pipes sealing them to the roof surface. No charge for repainting the pipes.
They even went out and matched the paint so the wood crown on the chimney would look great again.
I am glad that this was something we decided to do. Tony and his crew did a great job for a very necessary procedure for any home owner.
My compliments to Premium Roof Services."
Customer C
"I had my roof done by Premium about a year ago and I still love coming home to see my beautiful roof. The roof is spectacular and the service was outstanding. Pete even went above and beyond to help us figure out how best to finance our new roof. The roofers cleaned up after every day of work and they left my house even cleaner than they found it. I also had five skylights put it and they are amazing. They look nice and they give out so much light that I'm saving on electricity. The roofers even brought some old skylights up to code. Four other houses in my neighborhood had their roofs done recently, but my roof surpasses them by far! Highly recommended and worth every penny. I'd give 10 stars if I could."
Ryan M

"I cant say enough about this company, I found them on yelp and my experience was the same as the others. First off they were one of the few roofing companies that answered their phone, Rachelle was awesome and was able to have an estimator come out after I got off work-so helpful!!
Then the guy who came out was Tony was awesome, answered all my questions, was so courteous and gave me an estimate that day, and pricing was very fair, you know I had talked/dealt with a few companies and after meeting with Tony I knew this was the company for me, signed the deal that night and they were able to start the following week.
Their crew were punctual, clean, and the roofing work was great (I am very picky and hands on I climbed up when they were done and checked all the flashing, they even took the time to paint the areas to match the roof color!) Overall very satisfied, If I ever need any more roofing work done or know someone that does I will call them!! Thank you!"
Chuck W
"These guys are amazing! We contacted them because our neighbor had used them and was very satisfied. Tony really impressed us with how knowledgeable he is about roofing requirements and standards. He provided reliable, straightforward information about roofing options so that we could make intelligent decisions.
The crew were polite and respectful at all times, and did a super job of cleaning up every evening before they left. Everything was done on time and on budget — no surprises. The roof is beautiful and the materials are keeping the house cooler."
Dan C
"Premium Roof Services just completed re-roofing our home and garage. We couldn't be more pleased with their services. The roof looks great. We appreciated and were impressed with their professionalism, punctuality, quality of work, daily clean up and completing the job in the time frame we were given. Their written estimate was detailed, competitive, & honest – there were no surprises. Tony was extremely knowledgeable in all aspects of roofing and products. We met with 5 different companies. The estimates done by other companies appeared to be done by salespeople more than contractors as they couldn't answer all of our questions. Tony, on the other hand, answered all our questions with specifics. It was very apparent he knew what he was talking about. We met with Tony last – there was no need to even discuss who we would go with. We definitely recommend Premium Roof Services."
Lorie M
"I am very impressed and extremely pleased with Premium Roof Services. We needed a roofing company to come out and inspect our roof prior to a solar installation. The solar company recommended several roofers, which we contacted but were very disappointed with. We decided to find a roofing company on our own. We selected Premium Roof Services and we are so happy we did!
I called on a Saturday thinking I was going to leave a voicemail message. Instead, one of the owners (Pete) answered the phone. I told him what I needed and he was very helpful and knowledgeable. He impressed me so much that I decided to schedule the inspection. Tony, one of the other owners, came out to do the inspection. Not only did he show up as scheduled (all the contractors I have worked with never show up on time), but he was courteous, very knowledgeable and pleasant to deal with. He conducted the inspection and identified what repairs needed to be made. Since he knew we were going solar, he recommended that we replace the tiles on the roof with shingles which I am so happy we did.
Premium's crew did an outstanding job (special thanks to Carlos!). They were courteous, professional, very knowledgeable and a genuine pleasure to do business with. They are true roofing professionals and take great pride in their work and attention to detail. The solar company was also impressed with the quality of Premium's work. I will not trust my roof to anyone else but Premium Roof Services!!
Thank you Premium Roof Services, you are awesome!!"
Lisa J

"My husband is a broker and we needed an estimate on a roof for a home we have listed. Called Peter after 6pm and he picked up the phone. Not only did he answer all my questions but also offered to help us out and give us a quote based on our estimates and pictures. Peter emailed me back that same night and then I followed up with him the following morning with some additional questions. Peters efficiency will help us get this house back on track. We will definitely recommend his services to the future buyers."
Louisa A
"These guys are the best in the business. They are great, quick and leave your property all cleaned up. The best roofers in the county hands down. Oh, and honest too.
Great company to hire for your roofing needs. If I can give them more stars than 5 I would."
Eric R

"Met Tony again today to review the issues on my roof he noted after an inspections he did 3 months ago in our pre- home purchase phase. Have you ever felt like kissing a contractor on the forehead because you were so happy with how honest he/she was. You probably are answering "no", like me until I met Tony. I'm not sure if he has a constant image of Mother Teresa on his mind, but he is simply the most pleasant, honest person that I have dealt with when it comes to home or anything repair. I find myself asking him if he will install my microwave, complete an interior room refab, repair my car… I simply want him for repairing everything that I've had a bad experience.
Tony exudes sincerity from the minute you begin talking to him. He gave me what I know is the fairest appraisal of my roof situation without playing fear tactics with me. It's not pretty he said but we can do some contingency repairs until I can re-establish some financial security and purchase a new roof. He even said, "I'll impress you with the repair so you have no doubts that I'm the right person to replace your roof when you are ready".
If you need your roof inspected or repaired, please consider Tony of Premium Roof Services. Please treat him well because people of this character and honesty specializing in the field of home repair are hard to find, especially in San Diego, the land of too many scam artists. You won't be disappointed by Tony's recommendation and/or price compared to the rest. I had called 2 other very well recommended roofers and Tony surpassed them on every level. Thank you Tony!"
Jen F.
These guys were great. I called to get a quote, I was in the middle of escrow so they couldn't go to the property so I sent in pictures of the roof tiles that needed replacement. They were able to give me a quote based off the pictures (aerial shots from a drone that I received from our home inspection) and schedule for service within a few days of the quote. The service guy was quick and the prices are very affordable. They even gave recommendations or areas on the roof that I might need to have serviced in the future. Would work with them again!
Chris P.

This company did a very good job on a small workshop I had built for my bikes. The roof was flat so they used this white membrane material that was heat sealed on the roof. So far so good. The material has a lifetime warranty. They were booked several months out but did this smaller job for me within a week. Cost was more than others but they seemed more organized and professional. The sales person that came out was great and followed up with me immediately.
Norrel P.

Premium Roof Services lives up to their name, I received nothing but Premium Service! Peter was very professional and helped me to understand exactly what needed to be done. No BS.
My roof was repaired within a couple of days after Peter's assessment. Ramon came out and did a great job.
If you want an honest quote and quick Service I would highly recommend Premium Roof Services.
Jenn H.

I just had a complete reroof done on my house and had 2 tubular solar lights installed. Tony, Jose and the whole crew were very professional. They were there on time every day and cleaned up after themselves everyday. The roof looks great and I love the light that the tubular solar lights provide.
Eric L.
These guys are great! Tony got a crew to my house in a hurry when I was in a crunch. They even came out on a Saturday. They showed up on time and left the place cleaner than when they got there. The estimate was fair and accurate too, no surprises!
I would absolutely recommend Premium Roof Services for all your roofing needs.
Kimberly L.

Wow, if you want a great experience having your roof done then your with the right team!!!  My husband and I recently met with Peter to discuss replacing our roof along with our front wooden trellis and sky light.  We are excited to see how everything turned out and how cooperative the entire team was with us.  As my husband would say, I am not the easiest person to please however Peter and his team heard every concern of mine during the entire process.  I am so grateful that I found a wonderful company to work with that could be trusted and reliable for us!  Thank You Peter and Jose!!
Greg M.

I have had these guys do 3 roofs for me over the years… Got to meet the Three Amigos that run this place; Fred, Tony and Pete and I can't say enough good things about them and their work. Having done a few remodels I can honestly say that the roofing portion is something I don't even worry about, I only wish all my subs were this good.