Understanding Storm Damage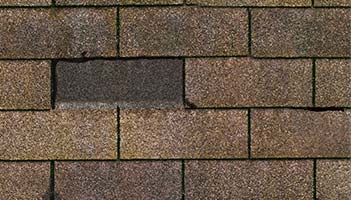 High winds can tear and remove shingles, leaving the roof deck, underlayment or old shingles from a previous roof exposed to the elements.
Wind can also lift and curl shingles by breaking the seal that bonds them together, leaving your roof vulnerable to wind-driven rain.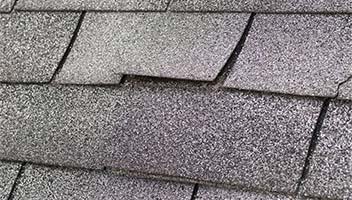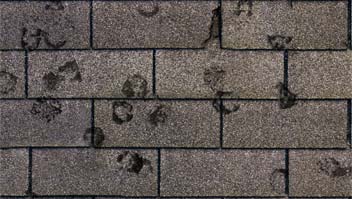 Hail can leave dents or pockmarks in shingles, dislodging the protective granules that protect against rain and sun damage.
Your Storm Damage Checklist
So you think you need a new roof. Don't worry. This helpful guide will walk you through everything you need to know — and everything you need to do — to make your roof replacement go smoothly.
Assess your roof for storm damage. Walk around the perimeter of your home and photograph or take note of any damage. Obvious signs of damage may include dented, torn, curled or missing shingles.
Check gutters, roofing accessories and windows. Though your shingles may appear undamaged, dents in gutters and roof vents may point to hidden roof damage. Also be sure to inspect windows for cracks, loose weatherstripping and torn screens.
Inspect the area around your home. Check for fallen tree limbs, broken fences and damage to lawn furniture and exterior decorations. Look closely at flat surfaces such as patios and decks for signs of hail damage.
Look for leaks and water spots in your attic and ceilings. Even though your roof may appear undamaged from the outside, wind and hail may have caused leaks that can lead to problems later. Check ceilings and light fixtures for signs of water and inspect your attic closely with a flashlight.
Call a contractor you can trust. After a storm, there may be a lot of contractors competing for your attention. Make sure you choose a contractor you can trust — such as an Owens Corning™ Roofing Preferred or Platinum Preferred Contractor — to assess your damage, provide an estimate and replace your roof using proven products.
Call your homeowner's insurance company. Refer to your notes, report a claim with your insurance company and arrange for an inspection.
NOTE: We recommend that you do not attempt to climb up on your roof. Especially after a storm, the roof structure may be weakened and shingles may be slippery. If you suspect roof damage, call a professional contractor you can trust to assist you with your assessment.

How to Talk to Your Contractor
With so many contractors competing for your business, how can you know who to trust? First, make sure that your contractor is licensed, insured and can offer a strong warranty that will help protect your investment for years to come. You should also be able to count on them to accurately assess and estimate your damage and to provide quality craftsmanship using proven materials.
Owens Corning™ Roofing Preferred and Platinum Preferred Contractors are preselected for their commitment to customer service, business stability and quality. They're also the only contractors who can offer our Roofing System Limited Warranties.* These warranties extend the coverage on our products and may even include workmanship coverage. In addition, all Preferred and Platinum Preferred Contractors must:
Have operated under the same business name for a minimum of two years (three for Platinum Preferred Contractors)
Be in good standing with the Better Business Bureau
Hold at least $1,000,000 in general liability insurance
Carry all required state and local licensing and insurance
Is Your Contractor up to the job? Our Contractor Checklist will help you know what questions to ask and what level of service you should expect.
Total Protection Roofing System
Total Protection is more than shingle deep
It takes more than shingles to protect your home. It takes an integrated system of components and layers designed to help perform in three critical areas.
SEAL Helps create a water-proof barrier
DEFEND Helps protect against nature's elements
BREATHE For balanced attic ventilation